Yep, it's the middle of the summer and I am about to take some time off. But that's not exactly what this post is about. It's about making sure that no matter what time of year it is, you use the right message distribution technique for what you are offering.  
In the old days, this was called "media planning and strategy." And, unfortunately, in most cases people don't really think beyond the tactical when it comes to media planning and message distribution. Many will focus on the more tactical considerations such as do they skew their budget to digital vs print and broadcast? Do they invest in email or launch a PPC campaign? They might say, 'we'll measure it on the backend and adjust accordingly.' All widely-used tactics, but they don't constitute a proper message distribution strategy. Its not their fault, because the data has overwhelmed the message distribution decision making process. Data is good, don't get me wrong, but it shouldn't be the sole determinant of what message distribution strategy to take. You have to align it with your target's decision making process as well as your competitive advantages. 
Now if you will indulge me, let me expand on the fishing analogy and how it illustrates the three basic media strategies that can work for you. Just keep in mind that good message distribution factors in two of the three "R"s in a communication strategy: the right person, and the right time. I think we know why it's important to reach the right person at the right time — the closer you can get to a person who is on the verge of making a purchase decision, the more likely you're able to register a conversion or a sale. Asking me to buy your suntan lotion while I'm in a meeting is an example of what you don't want to do. 
Okay, here we go with the fishing strategies:
Bait Fishing. What that basically means is that you figure out what your main messages are as you scan the water and paddle out to where you believe the fish are gathering. You drop your line there with the hope that the fish are going to buy. This technique has been used for literally decades prior to the explosion of digital media, but it's still an effective strategy.  And in some cases, it's still important because regardless of how precise your communications efforts are, you still benefit from less intentional, more casual consumers. These are the consumers who didn't think they were in the marketplace for, let's say, a pair of shoes, but saw an ad for a nice pair and decided they wanted them. In some cases, 20 to 30 percent of all purchases can come from this type of consumer, so, they shouldn't be written out of the equation when you develop your marketing and communications plans. 
Net Fishing. This is where you put a net across a stream and catch whatever crosses the net's path. What you catch depends on where you place the net and the size of the net's openings. This technique is good for any organization that has data and information on their target audience, related to life stage or lifecycle – academia, for example. Most academic institutions seeking to recruit students cast a net across whatever communication stream they use, and set it to capture as many students in a certain age group as they can. Another group that can benefit from net fishing is one that has a symbiotic relationship with another product or service. The best example I can think of is car insurance. If I buy a car, I'm going to need car insurance. Net fishing is the most efficient message distribution strategy because it allows you to target audiences at the right time. If you can, you might want to deploy this strategy in place of what you are using now.

Spear Fishing. This works best for organizations that cater to very specific audiences. Think of the scuba diver who targets one particular fish.  Many nonprofit organizations and those that sell luxury goods use this technique.  For spear fishing to be successful, an organization needs to have detailed information on what constitutes the perfect target and needs to make sure the message delivery mechanism allows delivery of specific criteria. A  bevy of software programs exist that can help you figure out if someone is qualified to be one of your customers and worth the time and effort it takes.  Social media advertising is another way of executing this strategy, but it has its limits.  While social media advertising can target the audience, the message  can get muddled in a cluttered social media environment. The most effective delivery of this message strategy is in a more personal, one-on-one conversation. For a school which is identifying a very qualified student, or for a non-profit which has profiled a candidate, it pays to pitch them personally.  
So, you can see,  if I put up a sign on my door that says,  "I've gone fishing" it doesn't necessarily mean I'm idle. It may mean I'm figuring out how to get you more qualified leads and manage your relationship with customers and prospects.

As always, if you have your own thoughts or want to let me know what you think, feel free to reach out to me at mtinati@kineticsmarcom.com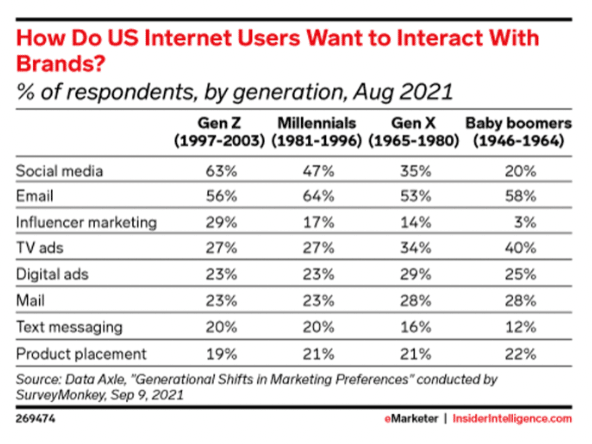 Yep, email. That's the answer to the question: "What communications channel reaches the broadest swath of audiences?" 
Check out this chart from a study conducted in 2021.While every communication channel seems to reach only a fragment of most audiences, sitting right there is good ol' email.  Who knew that it had such high appeal to virtually every demographic? 

You can see that email is the choice of every age group, from Gen Z to Millennials, from Gen X and Baby boomers. We suspected as much because we've seen that over the last two years email open rates have been creeping up. And, more importantly emails are generating more than a one-day bump in web site activity. Looking at results from 2018 for instance, open rates for an email campaign, whether using Constant Contact or Survey Monkey, spiked the first four or five hours after an email was sent. Then there may have been a small uptick a couple hours later towards the end of the day and evening.  And that was it – not much happened beyond Day One. 
Now, however, aside from the higher overall open rates, we've noticed that recipients are opening the emails on Day Two and Day Three. It's certainly not at the same open rates as on Day One, but maybe 50% – 75% of Day One results.  We've seen this type of general activity with two clients in different fields over the past 6 months, so we don't think that this is just an aberration.   
But before you go off and start doubling the number of your emails, be mindful that freshness and relevance of content is important to generate "opens" and engagement. In general, I still adhere to creating "an unforgettable conversation with a friend" especially in today's congested communication landscape.  The best way to increase your email activity in a meaningful way is, frankly, to listen to your audience and discover what they seem to be looking for. Chances are, there is something they want to know, and if you've established a trust with them, they will be open to hearing from you. The operative word is "trust." And just like in any relationship, you don't want to abuse it.

As always, if you have your own thoughts or want to let me know what you think, feel free to reach out to me at mtinati@kineticsmarcom.com
Ah yes, Bob Dylan lyrics from the '60s . . . and appropriate for today. Since the beginning of the year, we've seen more organizations, of all sizes, openly acknowledge that they are facing a new set of challenges. We at Kinetics are engaged in two strategic planning projects, and we are experiencing this rethinking firsthand. As we go through our discovery processes and reach out to these clients' stakeholders, they too say they are reconsidering their planning strategies.
Some of this can be attributed to the Pandemic. More than 8 billion people had to dramatically change the way they lived, loved, and learned, changing the world in the process. And it's not just the result of rapid adoption of technology – from telemedicine, to remote working to online shopping. It also includes a reevaluation by employees on how they want to work, and by employers on how they want their employees to work for them. The traditional 9-to-5 model is no longer applicable and appropriate for all industries and organizations – Huzzah to that.
But there is more: It's the ascendency of Gen Xers and Millennials as the major drivers of today's economy, and the waning influence of the more consumerist Baby Boom generation. We're looking at a ton of new research that shows how Gen Xers and Millennials have different priorities than Boomers – they are more into experiences vs. possessions; more inclined to consume brands that reflect their views on social justice and the environment; and put more trust in what peers say vs. institutions. For example, we recently came across a study by 5WPR, in which 73 percent of those surveyed between the ages of 35 and 54 said: "It's important to me that companies I buy from align with my values."
All this is against a backdrop of the evolution of social media. While there are many positive attributes to social media, its widespread use has fostered a new type of conversation that up to now was frowned upon. Social media has normalized the outrageous. It has tapped into our psyche, and it triggers a dopamine buzz that very few of us can quit. (And, if you are under the age of 30, there is a good chance you have at some point tried to figure out how to get a million views and a thousand likes.) It makes it very challenging for a brand to push out messaging in a media that resembles the Tower of Babel.
This all may seem depressing at first, but I don't think we are in a "doom or gloom" scenario. In fact, now is a great time for an organization to make significant changes to their product and service offerings, brand image, and service delivery. A mentor said to me once, "you can't make money in stagnant market." Well, if you ascribe to that theory, then it's surely worth taking advantage of these turbulent times. If everything is changing, then you can make changes as well. You can leapfrog the competition, or enter new markets, and appeal to a different set of audiences.
I certainly don't think that going back to a pre-pandemic model makes good business sense. As Dylan wrote at the end of the song:
The order is rapidly fadin'
And the first one now
Will later be last
For the times they are a-changin'.